New frontiers: Remote UX design for Beekeeping App
---
---
If you ever wondered what happens when 24 beekeepers, a translator, a cat, and a UX designer connect across 12 timezones for two days, you find yourself in the middle of our project. The AI-Driven Climate Smart Beekeeping for Women project (AID-CSB) centers around the customization and localization of an app to help beekeepers in Uzbekistan and Ethiopia better monitor and manage their hives. To ensure that the app is suitable for the beekeepers, a user research process was implemented in Uzbekistan in June 2021. We sat down with project user-experience (UX) designer Sarah to learn more about the process.
---
---
Q: I understand that the Beekeeper's Companion App already exists in English. Why can't you just translate it into the local languages for use?
A: To ensure the best user experience possible, translation simply isn't enough. In terms of language, translating word-for-word actually doesn't guarantee that the right words are being used. Beekeeping, especially, has very specific terminology, and those words are unique in Uzbek and Russian. Also, in some regions, like Uzbekistan, multiple languages are spoken--Russian, Uzbek, and Tajik. So localization of the language is what needs to happen, not just translation.
Additionally, certain phrases in English might not have the same meaning in other countries. For example, in our North America-based app, HiveTracks uses the phrase "bee stressor." In Uzbek and Russian, the concept of "stress" is only used in context to humans. The idea that bees could have stressors isn't easily understood, so we'll need to adjust phrasing to ensure comprehension. Iconography and colors don't always have a ubiquitous meaning, so that also has to be considered. Lastly, some languages, like Russian, actually change when addressing a man versus a woman. For this particular project, we want to guarantee that language within the app is gender-inclusive. So that's all to say that language is very complex and that localization is needed for an app to truly add value to a user.
Q: What is the process to customize and localize the app?
A: The first step is to learn as much as possible about those who will be using the app. For our beekeeping app, AID-CSB needs to understand the problems affecting beekeepers in Uzbekistan to learn how our app can best be adapted to solve problems for them. By conducting user interviews with 25 beekeepers in Tashkent and Bukhara, we were able to determine what beekeeping practices are like in Uzbekistan, what the biggest concerns are for Uzbek beekeepers, and how these issues can be improved with technology.
From there, we used that information to develop testable prototypes of two of our main features within our beekeeping app. Prototype testing was essential to learn if the app is user-friendly and to identify any translation and localization issues, whether the features tested can assist beekeepers in their daily beekeeping tasks, and to receive any feedback from beekeepers on how to improve the app to meet their needs. We learned so much during interviews and prototype testing, and it was a really awesome experience for everyone.
Q: Do you usually do this user research process remotely? How did it go?
A: I've conducted several user interviews over Zoom, but never internationally! 2020 made remote communication much more common and comfortable, so besides the typical wifi issues, the technical side of things went very well. We had an amazing translator who thoroughly understood the project and the importance of each individual question. Communication was great. For prototype testing, it was easy to share the digital prototypes in Zoom and have the beekeepers test it and give valuable feedback. It took several people working together to organize the interviews and testing, but we pulled it off really well. I might not have had the opportunity to connect with beekeepers on the other side of the world if it wasn't for remote testing. I was extremely pleased with how well it all went and how meaningful it was for all involved.
Q: What was most eye-opening to you about this experience?
A: For me personally, connecting with Uzbek beekeepers was the best part of all. They were all amazing to talk to, and our conversations were so interesting and fun. It was incredible to learn about the similarities in beekeeping across the world. They deal with the same bee diseases and the same weather-related challenges as North American beekeepers, but they are also very concerned about much bigger environmental issues like pesticide use and factory-related pollutants. For Uzbek beekeepers, pesticide use directly affects their ability to export Uzbek honey, which was the most eye-opening thing I learned. Uzbek beekeepers -- even the 12-year-old beekeeper I interviewed -- are very passionate about improving environmental issues affecting the health of bees. It is a big problem affecting beekeepers around the world, so I'm hopeful that these sorts of problems can be solved with more awareness and people across the globe working together to make a difference.
Q: How do you turn the responses of beekeepers into tangible changes in the app?
A: With prototype testing, patterns emerge from user feedback that help identify both major and minor issues in useability. If something is not user-friendly, it will be noted by several users during the testing. I take prolific notes and record the prototype sessions so that I can review and compile a list of the most significant design issues, insights, and user suggestions. From there, the HiveTracks team prioritizes which iterations are most crucial to make in the app. Design is an ongoing process of learning and revision, so we'll continue to learn from users, make improvements, and test to ensure the best user experience possible.
Q: The process of UX design seems fairly standard practice in the start-up world but is less common in international development projects. What do you think is the value add of the user experience (UX) design process?
A: UX design has been around for a while, but companies are just beginning to really embrace the value in designing from the perspective of users so that products solve key problems for users, rather than designing a product based on assumptions and then trying to get users to use it. A lot of money and time can be wasted building products or developing services that don't actually add value to users' lives or solve legitimate problems. It's not simply a design-based strategy but a great problem-solving process that can be applied in many different contexts. It really all comes down to listening and taking the time to understand first, then developing and adapting solutions that address key problems. User interviews and prototype-testing may take time and resources up front, but it's an investment that pays off in the long run with developing products that provide valid solutions and ease-of-use and are embraced by users. I feel confident that we've learned so much from our UX research and testing in Uzbekistan, and it will benefit Uzbek beekeepers, especially women beekeepers, which is the main initiative of this incredible project.

Click here for some interesting facts we learned from Uzbek beekeepers during the preliminary interviews. Currently the HiveTracks team is revising the app based on the feedback from the beekeepers, preparing to launch the app with ICARDA and the Association of Beekeepers in Uzbekistan in early August.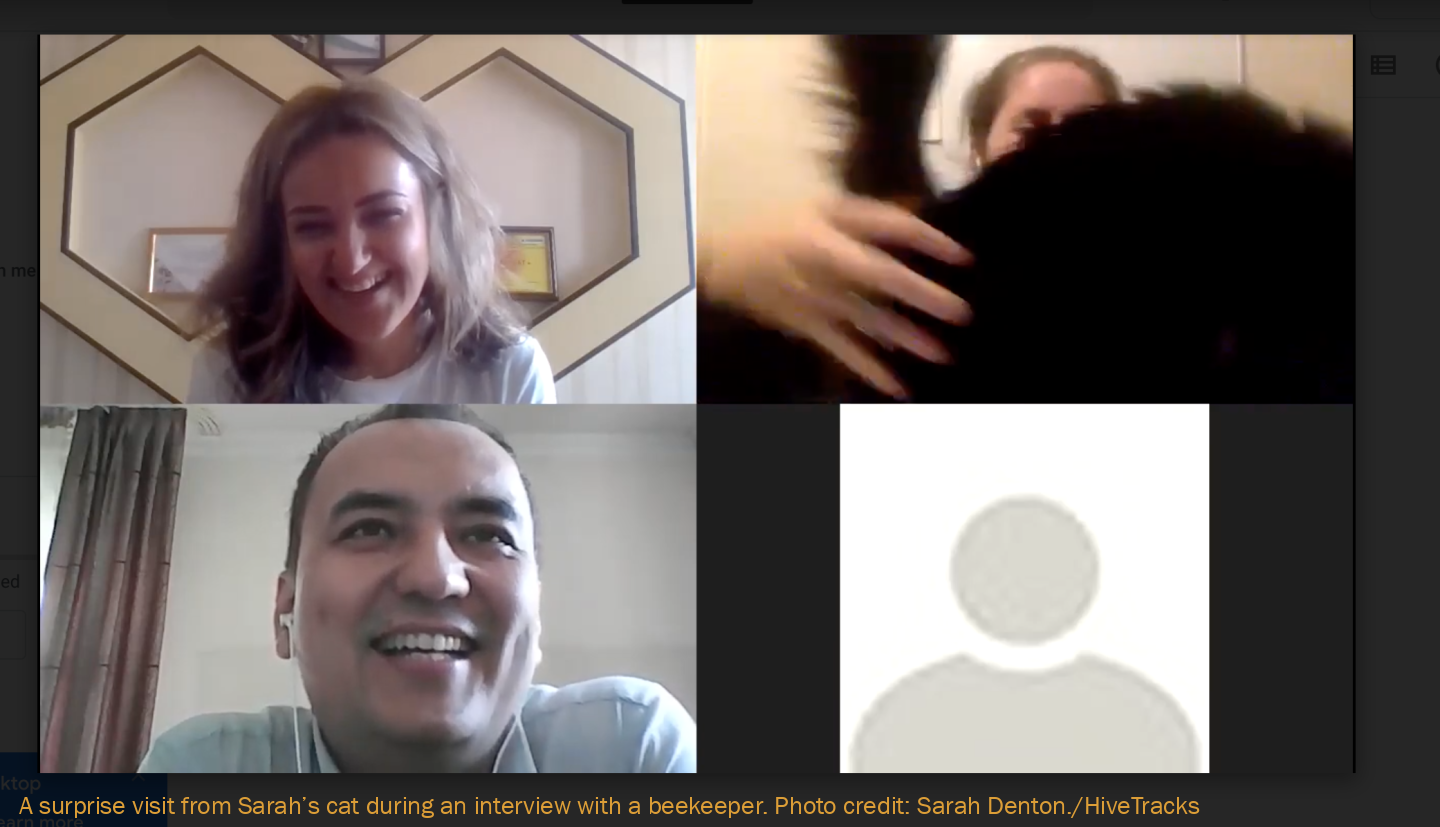 Project Partner: HiveTracks
Project Donor: German Federal Foreign Office